Q1: If we buy tickets in advance, can they be collected on the day?
A: No, tickets to all of our events will be posted out to you prior to the event (usually around 4 weeks before the event at the latest) Please contact us if you have not received your tickets around three weeks before the event. In some circumstances we do reserve the right to make tickets available for collection at the venue, but this would not be standard practice, we will always endeavour to have your tickets posted out to you by registered delivery. Please inform us immediately of any changed to address from the date of purchase. 
Q2: Can my tickets be refunded if I am unable to attend on the day?
A: Please see our 'terms' at www.mackevents.co.uk for our full terms and conditions on refunds, but unfortunately if having bought tickets you find you are unable to attend, tickets are non-refundable. We do however not restrict our customers from selling tickets on, our customers who have spare tickets to our events do often sell them on the official Mack Events Facebook Page. If your tickets are damaged in any way please bring them with you and we will replace them on the door, but we will be unable to replace them without receiving the damaged tickets in exchange. 
Q3: Can my children come to the event? 
Please check the age restrictions for each event. 'GlastonBARRY' and 'Skadiff' festivals are strictly 18+ events. ID may be required on arrival. GlastonBARRY Juniors is a family event but all under 18s must be accompanied by an adult.  
Q4: When will the tickets be sent out?
A: Your order confirmation will be sent to you via email as soon as you have paid for tickets. Tickets will then be sent out in the following months at least 4 weeks prior to the event. Please contact us if you have not received your tickets around three weeks before the event.
Q5: Will we be able to purchase tickets on the door / gate?
A: No, tickets to all of our events are sold in advance unless otherwise stated. 
FAQs - GLASTONBARRY  
Q6: Where and how do I get there? 
GlastonBARRY Tribute Festival takes place within Romilly Park, Barry. CF62 6RN. In 2022 the festival will take place on the 30th and 31st July. 
The Line 96 Bus (Cardiff Bus) runs directly form Cardiff Centre to Romilly Park, Barry. 
Barry Train Station is less than a mile away from Romilly Park, as you exit Barry Train Station ('Barry' - not 'Barry Dock' station) turn left on Broad St and walk up to the top of the hill, go past the zebra crossing and continue up the hill. Romilly Park Road is directly in front of you, follow the road around to get to Romilly Park. Train times can be found here 
If you get a taxi ask for 'Romilly Park, Barry'. A2Z Taxis are a Barry based firm and can be contacted on 01446 747555
Q7: What are the opening Times? 
Saturday 30th and Sunday 31st July 2022. Doors open at 11.30am and we finish at 9pm both days. 
THE MUSIC
Q8: What bands are playing this year and when?
A: 2022 Lineup below, the very popular - Flash (tribute to Queen) have also been added to the revised lineup for 2022.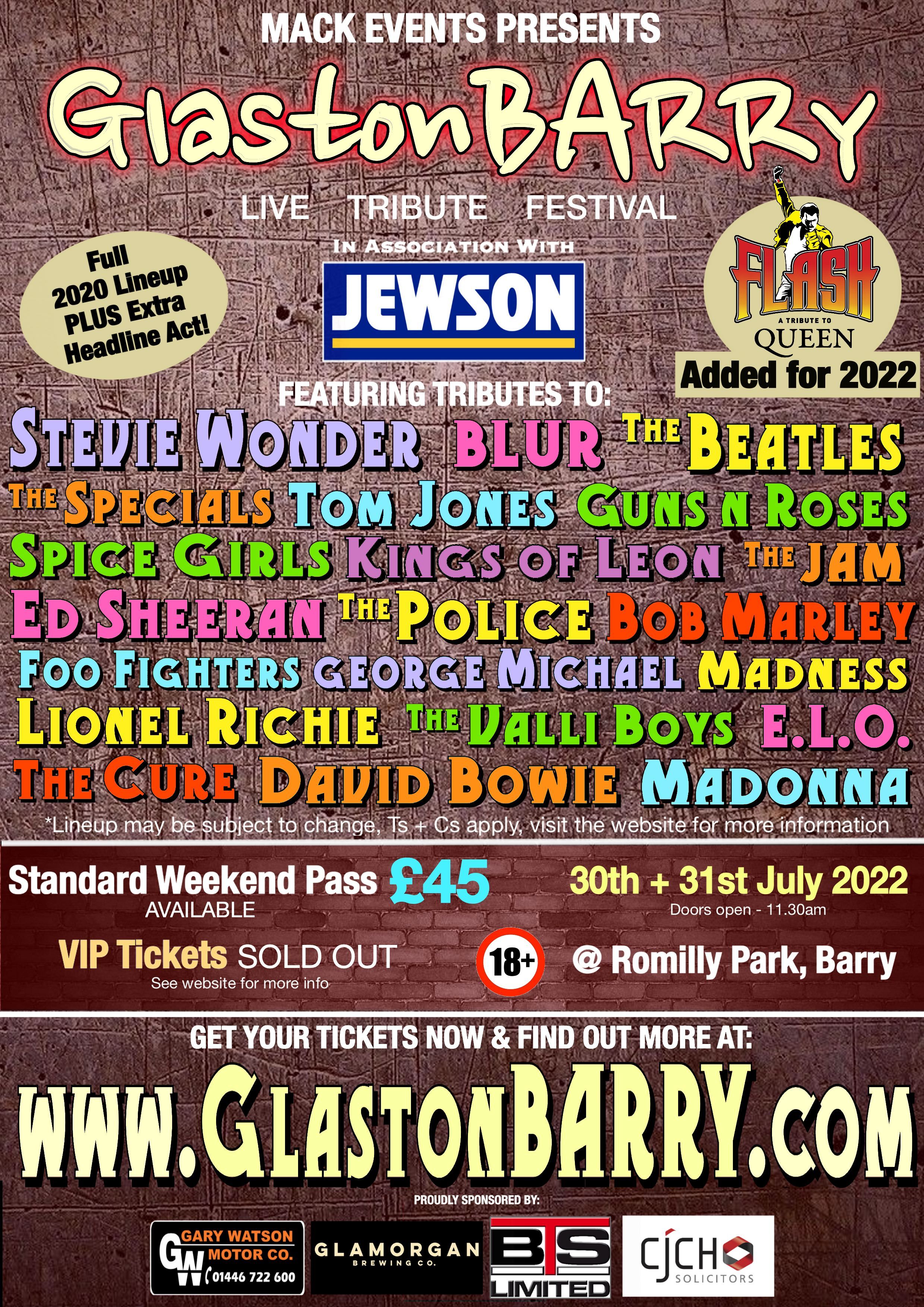 Q9: Is there parking at the festival and will I need to pay for it?
A: There is plenty of free parking around Romilly Park and the Knap. Disabled parking is also available within the site, please contact us for more information. If you have a Blue Badge please display it to the steward on arrival and you will be directed to the disabled parking area. 
Q10: Will there be security?
A: Yes. Public safety is the top priority for us. There will be police on site, a security team will be in place over the weekend and there will also be CCTV in operation at the festival. We ask for the patience and cooperation with our security of anyone coming to GlastonBARRY. No food, drink or weapons of any kind will be allowed to be brought on site, this includes penknives / chains or anything else deemed unsuitable by our security team. Bags will be searched on arrival and there will be a random search policy in operation on the door.  Due to the current security climate, we ask our customers to refrain from bringing large bags to the festival. Refillable water bottles will be allowed to be brought to the festival and there is a water refill station in Romilly Park that the security will direct you to if requested.  
ENJOYING THE FESTIVAL
Q11: Can I bring food / drink?
A: No food or drink is allowed to be brought on site. The food on offer from the festival's traders is diverse and of the highest quality. There should be something on offer for everyone, and you haven't experienced the festival without trying some of the cuisine on offer! We also have a large range of alcoholic and non-alcoholic beverages available at the bar. No bottles, cans, containers, alcohol, food or large furniture may be brought into the arena. Foldable camping chairs are allowed to be brought into the festival, but are not permitted inside the big top. Any items mentioned above found by security on arrival will be confiscated and repeat offenders may be asked to leave the festival site. Small amounts of food for customers with specific dietary requirements may be brought in but this will be at the stewards' discretion. There will be a specific Vegan / Vegetarian stall at the festival as well as Vegan options available from some of the other food vendors at the festival. 
Q12. What is the token system on the bar? 
We operate a cash free bar, customers are asked to purchase drinks tokens at the token booth before coming to the bar. Drinks tokens are non refundable and are used to purchase drinks at the festival. We offer a wide range of drinks at the bar including lager, ale, cider, fruit cider, spirits, wines, cocktails and soft drinks. 
Q13: Will there be any covered areas if it rains?
A: There are a number of covered areas at the festival including a 6000 capacity Big Top circus tent. 
Q14: Can I bring my dog to GlastonBARRY?
A: Unfortunately dogs are not allowed anywhere on site apart from assistance/guide dogs. This is a condition of our Public Entertainment Licence.
Q15: Will I be able to re-enter the site if I leave during the day?
A: Officially we operate a no re-entry policy. We hope you won't want to leave, and we try to ensure you won't need to. However, everyone entering the site will be issued with a wrist band and they will need to show this if they wish to leave and re-enter the site at any time. This will be at our security team's discretion, they will allow you to leave and re-enter if you need to, but they may refuse you re-entry if they suspect that you are leaving the site to drink alcohol from your parked vehicle or to take drugs. Re-entry may not be permitted after 8pm, security may ask to mark your wristbands when you leave the site to notify them of the number of times you have left the site and you may be refused entry if you are too intoxicated. 
Q16: Will there be seating? Can we take our own chairs?
A: The festival is all standing and it is not possible to book seats, or to bring any kind of bulky furniture into the arena. VIP tickets do include access to a private seating area. Due to high numbers on site, we do encourage people not to bring chairs into the arena. However, you MAY bring a rug or a small folding camping chair, so you needn't be on your feet all day. Anything that is deemed too 'bulky' will not be allowed into the arena so please consider this before packing (our stewards and security team will ask you to return these items to your cars or to leave them at the entrance).  No chairs or picnic blankets will be allowed within the main stage (circus tent area) or directly in front of the outdoor stage. 
Q17: Can we bring a wind break or sun tent into the arena?
A: No – as they pose risk to yours and other festival goers' safety. In an emergency we would need to evacuate the arena as quickly and as safely as possible. Clambering over tents, wind breaks etc would hinder a fast exit and therefore put lives at risk. If you are concerned about protecting yourself from the sun, please make sure you bring plenty of sun cream and hats. Please consider this before packing as our stewards and security team will ask you to return these items to your cars or to leave them at the entrance.
Q18: Will there be ATMs / Card Machines at the festival?
A: No, the festival is cash only so please bring cash with you. The nearest cash point is on High St, or on Park Cresent, both are approximately 1 mile / 10 minutes walk away from the festival.
DISABLED FACILITIES
Q19: Will there be wheelchair access / disabled facilities?
A: We try to make the festival as accessible as possible to those with special needs. The disabled car park will be the closest car park to the arena, but please note it is still some way (across grass) to the main arena, as dictated by the site. There is a wheelchair viewing area in the main arena, and there are disabled toilet facilities and changing facilities in the arena. If you have particular needs, get in touch with us in advance. We'll do our best to help.
CAMPING
Q20: Is there camping / spaces for my campervan on site? 
A: Unfortunately we do not offer camping on site, but there are a number of campsites within a reasonable distance from the festival. Please try:
or Happy Jakes 
or click here for more options.
Q21: Is there other accommodation in the area? 
A: There are a number of B + B's, Guesthouses and hotels within a 5 mile radius of the festival. Click here for more info. 
FAQs - OTHER
Q22: I'm interested in being a trader at one of your events. 
A: Please contact us
Q23: I'm interested in catering at one of your events. 
A:  Please contact us
Q24: I'd like to volunteer to help at one of your events. 
A: Please contact us
FAQs - GLASTONBARRY JUNIORS
rescheduled for Friday 29th July 2022
Q25. What is the lineup for GlastonBARRY Juniors?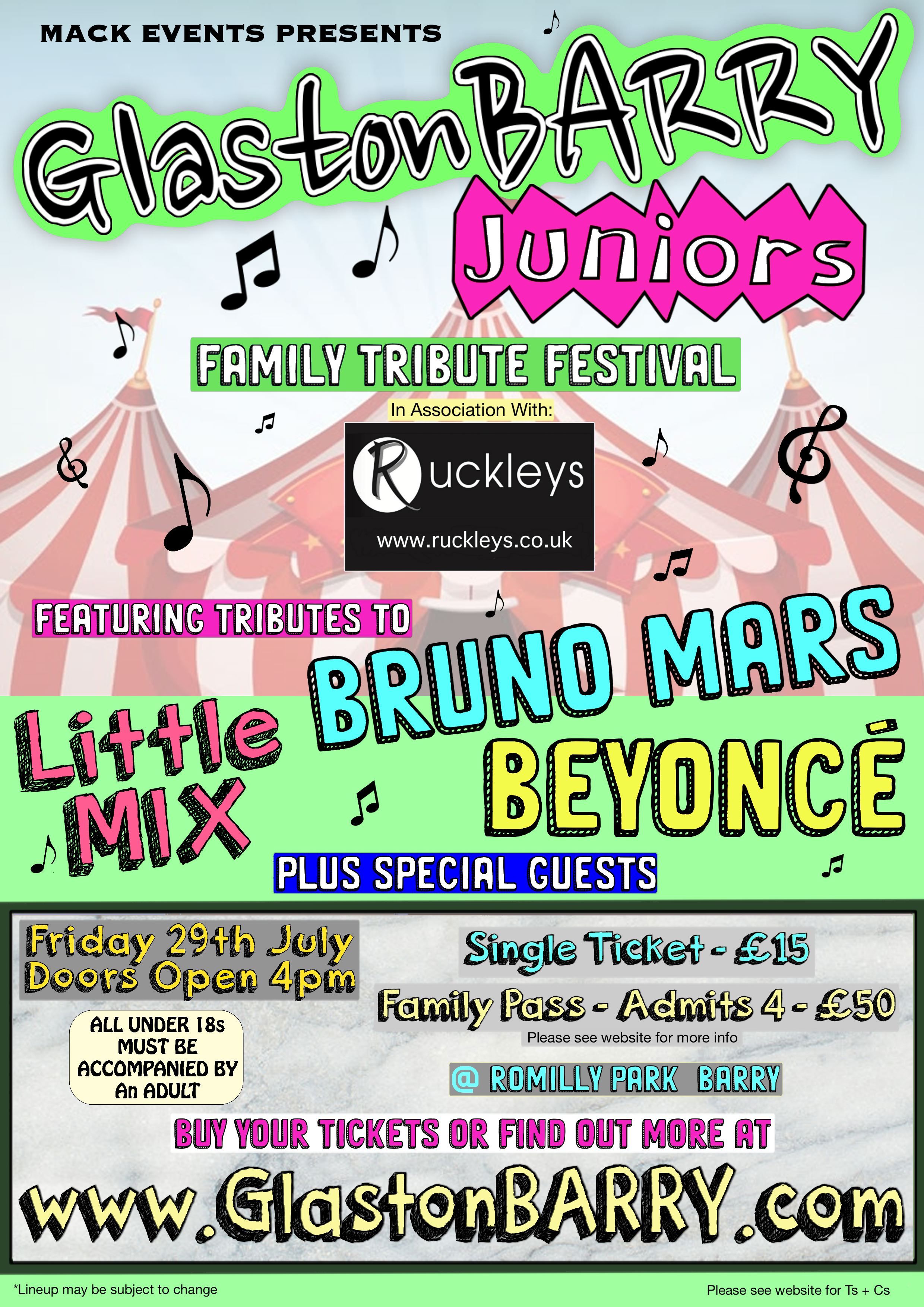 Q26: How do the tickets work for this event? Tickets for this event are either sold individually or as a Family Pass. Purchasing a family pass will give you 4 tickets to the event. PLEASE NOTE a family pass will admit either 2 adults and 2 children or one adult and three children (Anyone Under 18 will be admitted as a child but EVERYONE UNDER 18 must be accompanied by an adult). ID MAY BE REQUIRED. Children under 3 have free entry (3 year olds will need a ticket).  
Q27: Can I bring food or drink? No food or drink will be allowed to be brought on site for this event. (The Security staff do have some discretion in terms of baby food / bottles etc... but for older children there will be a number of food / drinks vendors within the site so you do not need to bring your own food or drink). 
There will be both a licensed bar and a soft drink bar at the festival and we will be operating a drinks tokens system as we do at GlastonBARRY festival (please see Question 12) The adult bar will be the same as GlastonBARRY festival (Over 18s only - challenge 25 in operation). The Kids Bar will serve soft drinks only. 
Q28: Can I bring a push chair to this event? Although there are no restrictions on bringing pushchairs to the event, please be aware that the site does take place on grass and we cannot account for the weather, if the weather is bad during or in the the run up to the event, you may find it difficult to manoeuvre your push chair on the grass. 
Q29: Are there disabled facilities? There will be disabled toilets as well as disabled changing facilities on site. We also offer disabled parking. If you have a blue badge then please display it at the gate and you will be directed to the disabled parking area. Please contact us for more info. 
COMPLAINTS
Q30. Who do I contact if I have a complaint?  
Noise complaints
For the duration of our festivals we will be working to specific licensing conditions, working closely with environmental health to adhere to those conditions and have noise limiters in place to ensure that we do not exceed those limits. If you have a noise complaint please contact us via our complaints line - 01446 401501 and your complaint will be logged and investigated by our health and safety advisor on site.
General complaints 
If something at one of our events has been unsatisfactory we would always like to be made aware of it so that we can rectify it in the future. Please contact us with your concerns and our complaints officer will look into the matter and will endeavour to contact you as soon as possible. 
For any other information or if you have any other questions please contact us. 
FAQs - SKADIFF 
Q.31 - When and Where is Skadiff Festival? 
Skadiff Festival will take place on Sat 30th April (6pm - 10pm) and Sun May 1st 2022 (12pm - 10pm). It will take place at Cardiff Arms Park, Westgate St, Cardiff CF10 1JA. The lineup for the festival is shown below.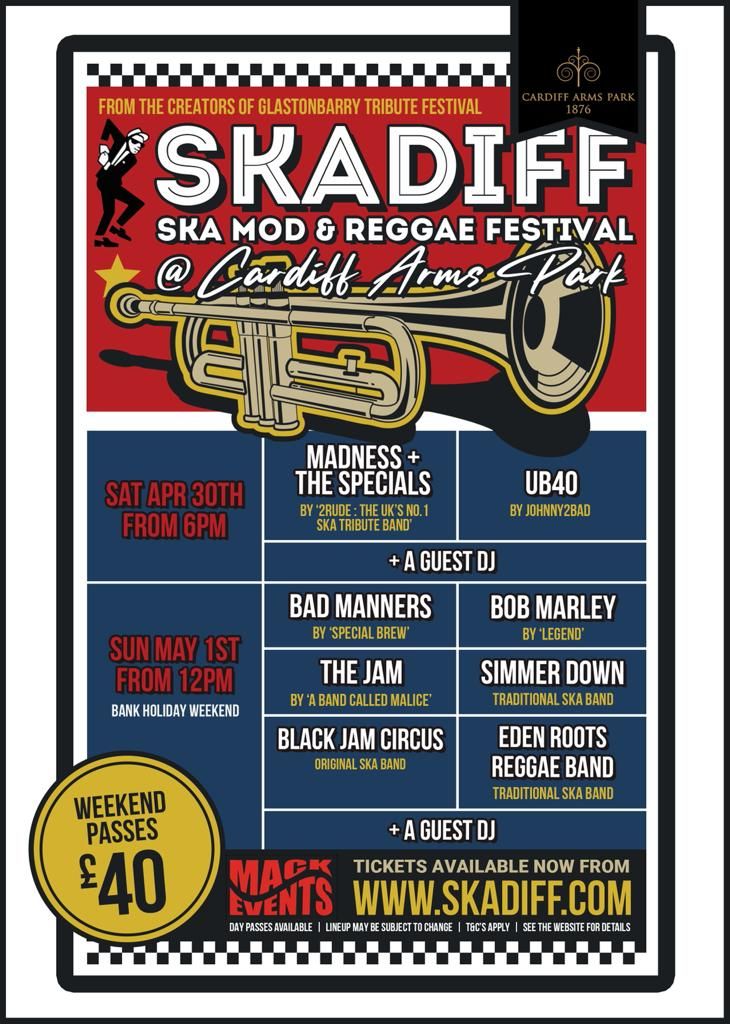 Q.32 - Do you offer camping / Is there accommodation nearby? 
No we don't offer camping, this event takes place in the middle of the city of Cardiff and there are numerous options for public transport (trains / busses and taxis) as well as a number of hotels and guesthouses nearby. Please see links below: