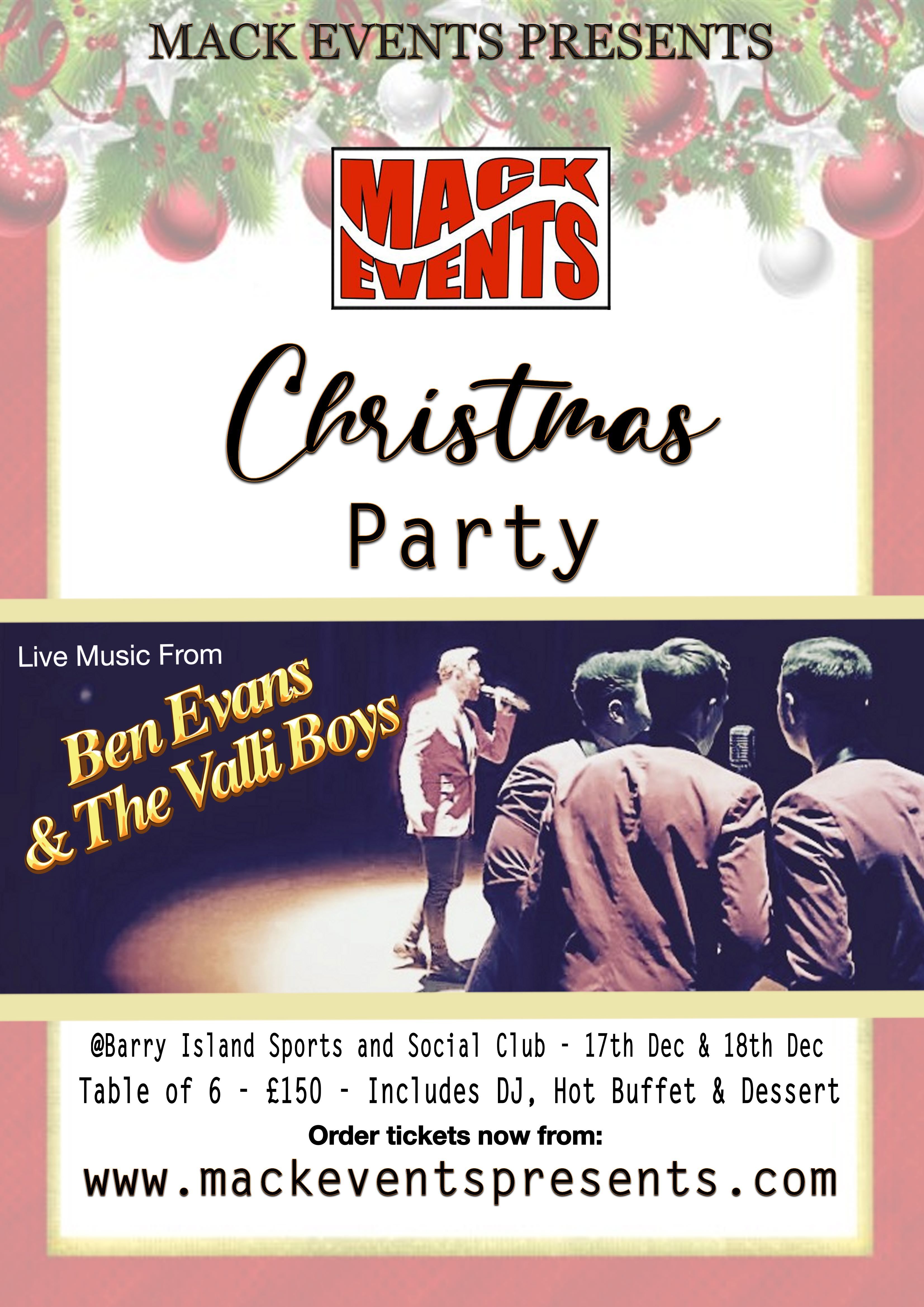 Tickets for this event are now SOLD OUT - Thank you. 
Terms and Conditions
Mack Events Cancellation and Returns Policy
Once you have purchased tickets, they can only be returned, exchanged or refunded in the circumstances described below:
– If we fail to fulfill an order as a result of any negligence, or similar act or omission of our own or in breach of contract the customer will be entitled to a full refund including any booking fee charged.
– If the event is cancelled or postponed by Mack Events, or material changes are made to the Event, namely a change of the venue or the headline act and tickets have been sent out. Only the face value of the tickets will be refunded in this instance. If the tickets have not already been despatched, the processing fee will also be refunded. Please note – If the event is forced to cancel due to riots, strikes, epidemics, acts of God or Force Majeure, and the event is rearranged at a later date, tickets will NOT be refunded, the original tickets that you have purchased will remain valid for the revised event as these are legitimate conditions beyond our control.
There will be no refund for lost, stolen or damaged tickets (save that duplicate tickets may be possible, however a duplication fee equal to the original despatch fee may be charged) or if the venue or Event organiser provides different seats to those specified on the ticket.
For any refund of face value you will be required to return the tickets, on receipt of which we will make the refund. Tickets should be returned to Mack Events, Unit 320A, Vale Enterprise Centre, Sully, CF64 5SY.
Refund requests will be accepted up until 1 week before the date of the revised event or 1 week after notification of the change (whichever is the later) unless otherwise advised. We are unable to refund requests that are received after this time.
Refunds are made using the same method of payment that was used to purchase the tickets.
It is your responsibility to ensure that tickets returned are received by us. It is therefore advisable to return any tickets either by secure post or in person.
When events are cancelled, postponed or the venue or acts are significantly changed, we will do our best to inform all purchasers using the contact details provided when the order was made. However, it is the responsibility of the purchaser to check whether the event is going ahead at the scheduled date, time and venue. We cannot guarantee that we will be able to make contact with you.
It is the responsibility of our customers to inform Mack Events of any change of address, contact telephone number or email address both before and after receipt of your tickets.
Always check your tickets on receipt, as mistakes cannot always be rectified later.
Although Mack Events will use reasonable endeavours to indicate any age or other restrictions that apply to events, it is the customer's responsibility to ensure that they are eligible for entry to the event that they are purchasing tickets for.
Promoters and Venues always reserve the right to refuse admission to an Event and tickets are issued subject to the rules and regulations of the venue. We will therefore not offer refunds to any ticket-holders who may be refused entry, or for any instance where the customer is ejected from the venue by the security team.
We will not be liable to you for any loss of enjoyment or profit nor any indirect, consequential, exemplary, incidental, special or punitive damages.
We will not be liable for any misrepresentations, negligence, contractual or tortuous loss of any kind suffered by you from the products, or services, or actions of any venue, performer, promoter or others.
If you are collecting your tickets rather than having them posted out, please be advised that the tickets must be collected by the cardholder in person, and that the credit card must be presented on collection. The cardholders' signature will be required on collection.
There is no standard despatch time for tickets ordered through this Site as tickets for different events have different despatch times. However, all tickets should be received at least 7 days before the event, unless they are being collected from the venue. Where tickets are booked within 14 days of an event and are being posted, tickets should be received at least 2 days before an event.
If it becomes impractical to post tickets out due to proximity of an event or circumstances beyond Mack Events' control, we reserve the right to make the tickets available for collection at the venue and will inform you accordingly.
For certain events there may be a restriction on the maximum number of tickets that may be purchased. We will use our best endeavours to publish this information on the Site and at the point of ticket selection for the event. In such case, we reserve the right to only offer for sale the maximum number of tickets available and to cancel any orders made that exceed the maximum authorised tickets per customer without notice.
If tickets despatched by special delivery are returned as 'addressee unknown', we reserve the right to cancel the order.
We reserve the right to change the price of tickets after they have been despatched to you if we become aware that the tickets were listed at an incorrect price due to a mistake including a typographical error, or an error in the pricing information received by us from the Event Organisers.
If this occurs, we will notify you by telephone or e-mail as soon as we become aware of the error and if you do not confirm within 14 days that you wish to purchase the tickets at the revised price we will cancel the tickets and re-credit to your account any sum deducted by us from your debit/credit card in full as soon as possible but in any event within 21 days of your order. We will not be obliged to offer any additional compensation for disappointment suffered.
Please note that the lineup for all 'Mack Events Presents Ltd' events are subject to change. Mack Events will always endeavour to inform all customers of any changes to lineups as soon as possible.
The unauthorised use of photographic and recording equipment at venues is usually prohibited unless stated otherwise.